Should I take out my wisdom teeth?
It was a sunny Monday morning in late May 2014. I was in a conference room giving my team our weekly project status update:

"Last week went according to expectations and we made good progress while still staying under our planned budget, and…and…ouch.."

Suddenly, I felt a stabbing pain pulsing through my right cheek – a pain so strong and sharp that it brought my presentation to an early halt.

I managed to finish talking, albeit very slowly and with a few more "forced pauses", and then ran off to the office kitchen to look for a painkiller tablet…no, better take two…ah whatever, three just to make sure.

"What in the world was that…?" I remember asking myself later that day after the pain had let up and, just as I was about to forget about this incident, the pain came back in full force – no, actually it got even worse!

After three more similarly miserable and painful episodes over the following 24 hours I knew: "This will not go away by itself…!"

So I embarked on a search for the cause of my pain and, in the process, came across an older x-ray photo of my mouth which revealed what was bothering me: four impacted wisdom teeth!
The 4 Tormentors inside of my Mouth: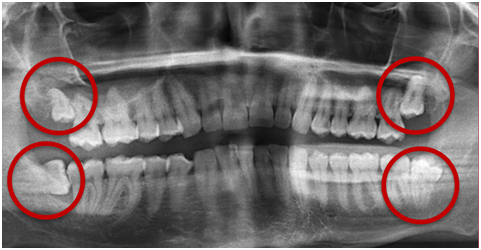 I had not been to the dentist for several months and had completely forgotten about those four "wise ones" – comes with the territory when neglecting my dental care, I suppose…

Immediately, I started looking for a top dentist with a specialization in tooth extraction.

However, after many hours of online browsing and countless phone conversations, I realized how difficult the search for an immediate appointment with a great dentist can be.

On top of that, getting a solid idea of procedure costs was a nightmare because many dentists were not comfortable committing to a number and/or provided vastly different estimates – with the top estimate ending up almost 3-times higher than the lowest one.

After several weeks of fruitless attempts to secure an appointment and ever-increasing toothache flares, I finally decided to get my wisdom teeth removed by a specialist in Bulgaria – without any wait and for a fraction of the cost.

I was liberated – for now.

"And so, another trip to Bulgaria next time I need a dentist again? No way…"

There had to be a solution for this problem – locally – right here in Vienna!

*VOILA* – the idea for DentalAce was born.

Today, I'm taking my dental care much more seriously and make sure to visit a dentist at least once every 6 months.

Hopefully, you can all say the same for yourselves and we truly hope that the DentalAce portal can offer a helping hand to you for your dental care and oral hygiene in the future.

Let's minimize pain, save time and money, and make dental care a cinch!