Dentist search 2.0: Build trust for your next dentist appointment!
Dear DentalAce member,
For the first time in Vienna, you can now have dentists invite you to appointments rather than having to seek them out yourself. And the best part about this for you is that all invitations will come at your desired appointment time and for your desired budget.
Before we go over the details, let us first tell you a brief story to explain clearly which problem we aim to solve for you.
Dentist search today is like looking for a needle in a hay stack
Our story starts with 3 patients, all of whom are trying to set appointments for

professional dental cleanings

and who are all, at least to some extent, thinking about the costs of the procedure because it is currently not reimbursed by Austrian insurance companies.
Patient 1: An executive at a large corporation whose position affords him a very flexible schedule and a very lavish budget. Therefore, he can afford to pay virtually any price for the professional dental cleaning.

Patient 2:

Your typical white collar worker with a 9-to-5 job, an average level of flexibility throughout the week due to the limits imposed on it by his daily work schedule, and a budget that is limited to a maximum of EUR 100 for the procedure.
Patient 3: Maintains 2 part-time jobs to finance his life as a student and has, therefore, virtually no free time during the week. Also, his tight financial situation constrains his budget for the procedure to at most EUR 50.
All 3 employ the typical means of looking for a dentist – internet search engines, phone calls, recommendations from friends and family – to find one who is willing and able to perform the professional dental cleaning at their desired price points. This is where the big problem in our current dental care system here in Austria strikes with full force:
Patient 1: Asks his assistant to schedule an appointment with Dr. Green, a "Star Dentist" in Vienna, whom he knows very well from high-society events. Since procedure price is not an issue and since his schedule is flexible, the assistant manages to find an appointment on the very next day and, within less than 24 hours, patient 1 walks out of Dr. Green's practice with freshly-polished teeth.
Patient 2: Has a "family dentist", who unfortunately charges EUR 120 for a professional dental cleaning. Thus, he creates a list of a dentists based on online database searches and word of mouth and calls one after the other during his lunch breaks to ask for appointments and procedure prices. Half of them refuse to discuss pricing over the phone and/or do not have any open appointments in the near future. After a few days of working the phone, he finally schedules an appointment with a dentist who performs the dental cleaning a week later for EUR 100.
Patient 3: Can barely carve out time in between jobs and lectures to place calls to dentist practices during the week and runs into trouble when trying to find suitable appointment times. He finally manages to book an appointment 2 weeks later but said appointment is cut short by the fact that the dentist refuses to perform the procedure at the EUR 50 price point. After spending a few more days to secure a second dentist appointment another 2 weeks later, he finally finds a dentist who agrees to clean his teeth for EUR 50. So, after about a month and a lot of stress, Patient 3 finally gets his pearly whites spruced up as well

.
All's well that ends well, right?

Unfortunately, something is very off with this picture. When taking a closer look, it becomes painfully obvious that the patient who has the least time and financial resources for a professional dental cleaning has the hardest time finding a suitable dentist. And in this case, there is just a dental cleaning at stake
–
a

preventive treatment

. In more severe cases – for example in cases of an

infected tooth root

– patient 3 may end up waiting in pain for weeks until a relieving dentist appointment.

Simply said: Whoever has money has it easier and whoever does not have it has to deal with lots of difficulties in the name of healthy teeth.

This does not have to stay this way, though!
Dentist search of tomorrow with DentalAce
"Enter, DentalAce".

To put patients into the driver's seat on the path towards price transparency, we have developed not one but two useful functions.

Our

personal request

and

price check

functions allow patients to send completely confidential treatment price and appointment requests to as many DentalAce member dentists as they want so they can receive appointment invitations that match their specifications.

Before we go over both functions in detail, we will first review how things would look like in a world with DentalAce:
Patient 1: Asks his assistant to simply book an appointment with Dr. Green via the DentalAce platform. After just a few clicks, the appointment booking process is completed and since procedure pricing is no a concern, patient 1 gets his freshly-polished teeth on the very next day again.
Patient 2: Sends a price check via DentalAce to his "family dentist" and agrees to a one-time price of EUR 100 for a professional dental cleaning. To be sure that he gets the best "deal", Patient 2 also sends a personal request to all DentalAce member dentists and receives 6 offers on the very same day. Since one of these offers comes from a very highly-rated dentist who is located close to Patient 2 and who offers to perform the procedure on the very next day for EUR 90, he decides to go see that dentist and gets to his freshly-polished teeth within 24 hours and under budget.
Patient 3: In between lectures, manages to send a few Price Checks to a handful of dentists in his vicinity and also submits a personal request to all DentalAce member dentists with a maximum budget of EUR 50 from his smartphone. On the very same day, he receives 3 invitations at his stated price and accepts the one for an appointment during the coming weekend.
What a difference, right?

Not much changed for patient 1 but he was pretty well off anyway. Patient 2, on the other hand, saved EUR 10 right off the bat, avoided many annoying phone calls, and received an appointment much sooner. Pretty good outcome. Patient 3 sees the largest benefit from using

DentalAce

because he not only shaves off several weeks from his dentist search but he also gets the procedure he needs exactly at the price he can afford and on a weekend to boot – completely without missing work or any lectures.

And the best is yet to come for patients: Each and every person out there on the internet can, irrespective of their age, stage of life, and location, create a free account on DentalAce and use our functions as often as needed and at any time to support his or her dentist search.

Nowadays, you often hear that "you get what you pay for" which implies that premium service requires a premium price. We at DentalAce think differently about this and offer all of our patient users the best service in the market absolutely for free.

Why? Because you're worth it to us!

So don't fret during your next dentist search but rather give the request functions on the DentalAce platform a try.
Dentist search 2.0 – This is how it works
Personal Request: For patients who are looking to find a few workable appointment options, who have a specific maximum price in mind, and who would like to give a new dentist a try.

Step 1: Open the personal request form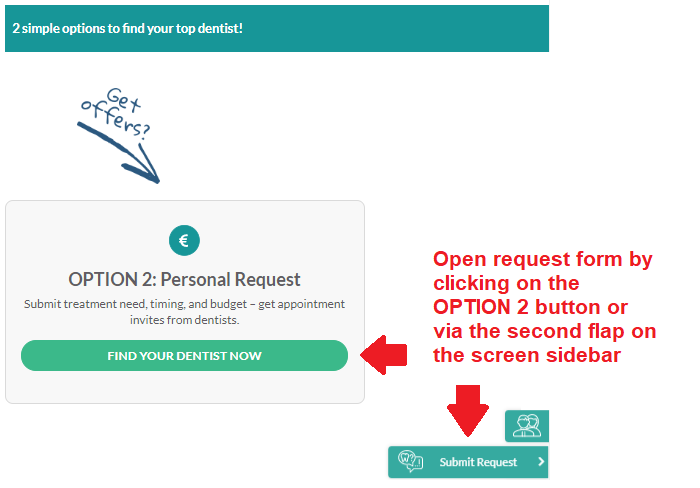 Step 2: Enter preferred location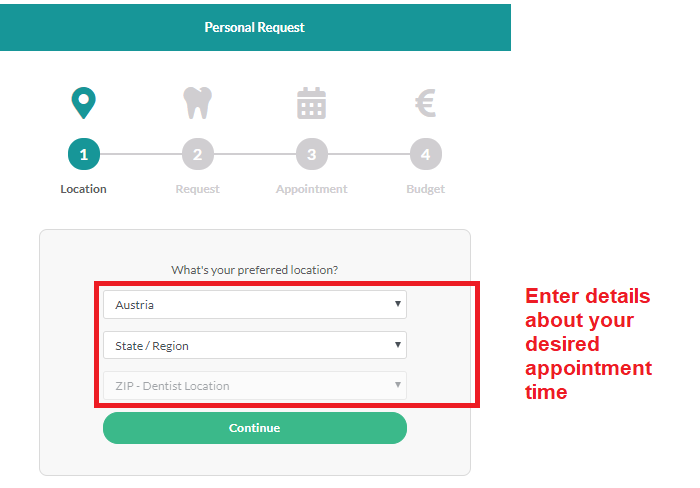 Step 3: Enter desired treatment & insurance information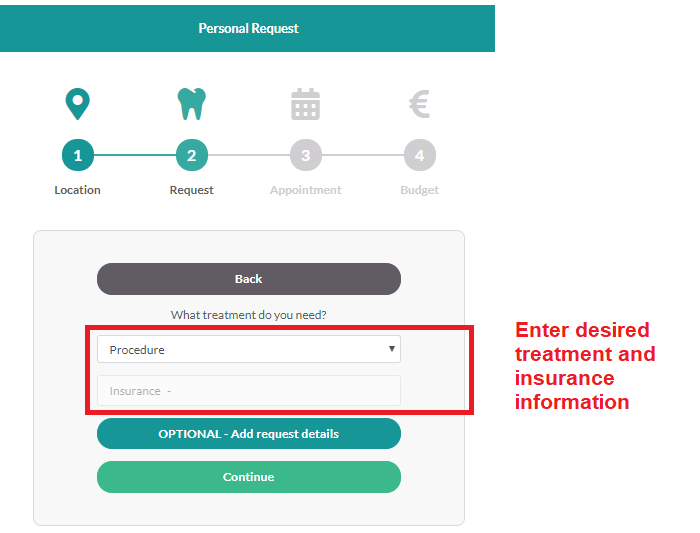 Step 4: Enter desired appointment time(s)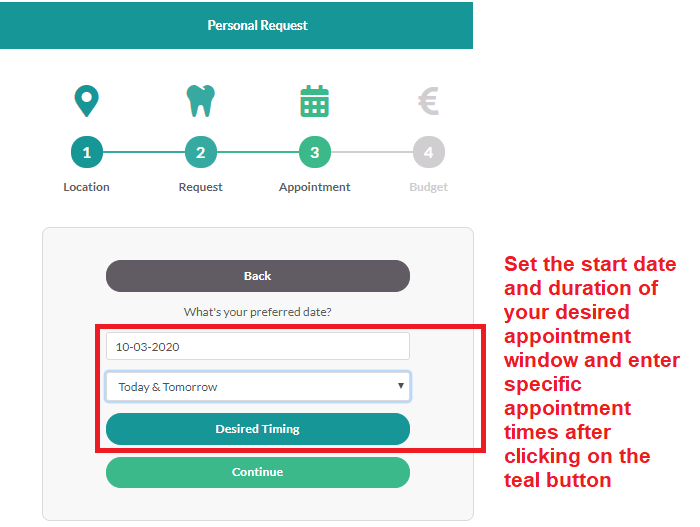 Step 5: Enter maximum budget & hit the submit button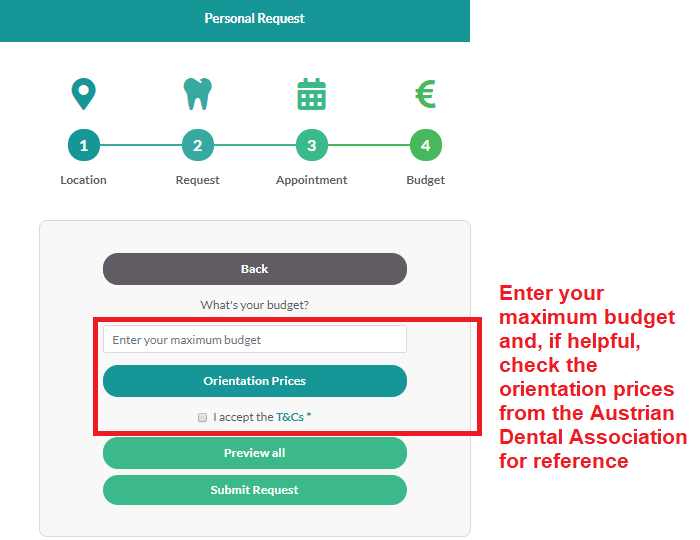 Price Check

:

For patients who have picked out a few select dentists and who would like to agree on a maximum treatment price prior to booking an appointment online.

Step 1: Pick out the dentist(s) of your choice from our portal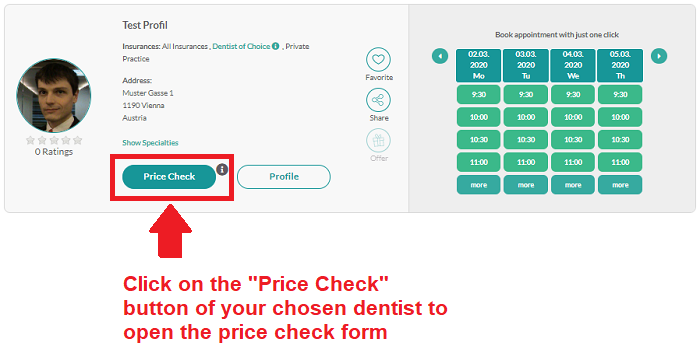 Step 2: Enter the desired treatment into the price check form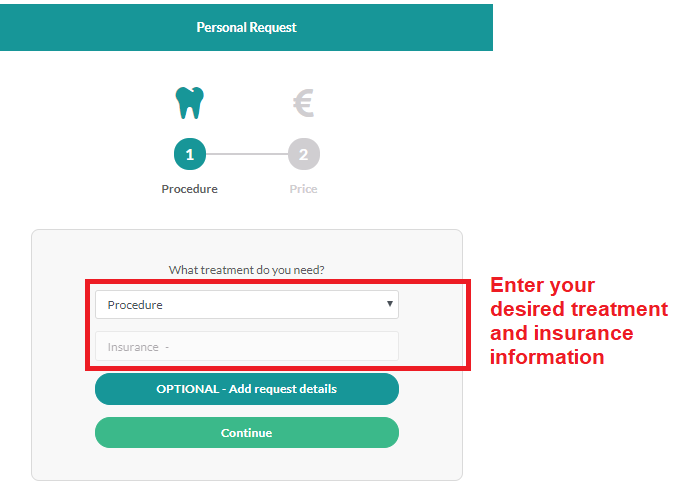 Step 3: Enter maximum price & send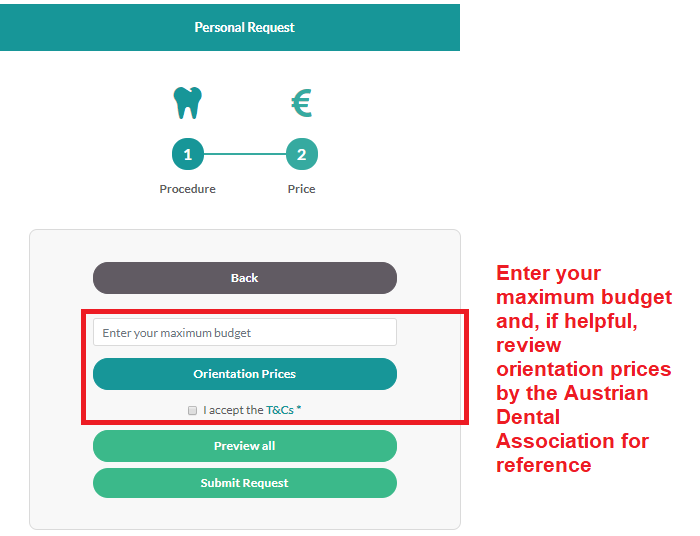 But does it really work? – What do dentists have to gain?
With so many advantages for patients, dentists must necessarily lose, right? Not in this case because the DentalAce system offers several very clear advantages to dentists:
Dentist-Patient Compatibility: DentalAce allows dentists to get far more appointment bookings from patients whom they can help the most (e.g., based on their specializations, such as

orthodontics

or

braces

) and who can afford their services without the danger of any sticker shocks.
Trust Building: Thanks to

100% authentic patient ratings

and price transparency through the DentalAce platform, dentists can get more patients much more quickly.
"Network Effect": With a profile on the DentalAce platform, dentists can always be present right where patients are looking for dentists and save on marketing costs at the same time.
More information

is available on our portal.

So, DentalAce has built a bridge that maximizes trust between, and that is bringing dentists and their patients closer together.

Hopefully you've found this article interesting and we look forward to help you out with your next dentist search.
For more interesting stories, feel free to check out the DentalAce blog and join our community via a

free subscription directly on our web portal

.

In the meantime, we would love to hear from you – please leave any thoughts and feedback in the comment box below and rate this post via the 5-star rating function so we get to know what you like to read about.