Dentist Interview Series – Post 1 with Dr. Dalibor Jovanovic
Dear DentalAce Community,

The goal of our blog is to feature weekly real-life stories for everyone to read, enjoy, and to, hopefully, gain some useful tidbits of information about crucial topics such as the best ways to find a dentist and dental care overall.

To further this mission, this week, we're kicking off a new series of informative articles focused on interviews with our Pioneer-dentists.



Dr. Dalibor Jovanovic

graciously accepted our invitation to become our first featured pioneer dentist and joined us for an interview to give us the inside scoop on how the world looks like from the viewpoint of a dentist.

For more information about Dr. Jovanovic, his specialties, his practice in the 19th district in Vienna, or his open appointments, please keep reading this blog post and/or click

HERE

.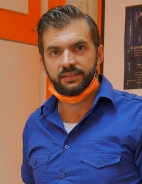 If you have additional questions for Dr. Jovanovic or topic suggestions for our future dentist interviews, feel free to ping us at any time at dentalace@acemydental.com.

We'd love to hear from you.

All the Best & see you soon, Ace!

---
Interview with Dr. Dalibor Jovanovic
A heartfelt Thank You from the DentalAce team to Dr. Jovanovic for setting some time aside to sit down with us for this informative conversation!
GENERAL TOPICS
When did you first become a practicing dentist?
About 2 years ago
How would you describe your and your practice's unique value proposition to patients?
Dentists should focus on serving unique individuals rather than on an undefined group they call patients – therefore, I always strive to give each of my patients the feeling that they have found a dentist that they can personally trust
OPERATING A DENTAL PRACTICE
In your opinion, to guarantee the best-possible patient care, what are the top-3 success factors for a dental practice?
Sufficient time to really focus on individual patients (no rush jobs)

Extensive and all-encompassing patient-specific counseling and guidance

High-quality equipment, materials, and specialist labor
What are the top-3 challenges related to dental practice operation that you face on a daily basis?
Communicating the importance of dental care to busy professionals

Limited flexibility on the side of patients when scheduling appointments

Irrational and/or inadequate focus by patients on factors that are, at best, only tangential to successful treatment outcomes
How do you currently communicate with patients prior to their first appointment (e.g., phone, e-mail, social media, etc.)?
Via phone and social media
In your opinion, are these patient-dentist communication channels sufficient or do you see room for improvement?
Online communication could be much better/more robust
If you see room for improvement, which specific changes would you suggest?
An online platform that allows for faster and easier personal communication between patients and their dentists
Do you use different communication channels when contacting new versus existing patients?
Yes, I contact new patients via phone more frequently while I prefer written communication (text messages, e-mails, social media) with already established patients
Why do you use different communication channels with new versus existing patients?
With already established patients, shorter written messages are more convenient because they take less time and are more easily integrated into their daily work routines without causing interruptions
Do you ever experience last-minute appointment cancellations (e.g., on the same day)?
Yes
Do most of these cancelled appointments remain unfilled?
Yes
How interesting to you is a new method of effectively offering appointment times that open up due to last-minute cancellations to new treatment-seeking patients?
Very interesting
Do you and your patients sometimes experience misunderstandings regarding specific treatment needs (e.g., recommended procedures, treatment time frames, pricing, etc.)?
Yes
If yes, which measures do you employ to prevent such misunderstandings from happening prior to an appointment?
Phone consultations prior to the first appointment to walk through key administrative procedures

Initial diagnosis, including estimated treatment costs, during the first appointment

Detailed treatment plan including key procedure listing, treatment timeline, and definitive treatment cost quotes after the first appointment
DENTALACE - OPINIONS TO DATE

Have you given DentalAce a try yet?

Yes

If yes, what is your opinion about the platform's value proposition for dentists?

For dentists, it presents another option to find new patients

Even more importantly, it offers patients a way to quickly see a dentist and get answers to their questions without having to wait for an appointment to open up (which, in some cases, can take up to several months)

Which functionality of the DentalAce platform do you find most useful?

Ability to invite individual patients to come in for appointments

Easy and convenient online appointment bookings

Easy exchange of information about patient treatment needs already prior to appointments

If you could request additional functionality for the DentalAce platform, what would you put on your wish list?

Real-time connection between the DentalAce calendar and my dental practice calendar

How easy was the registration process with DentalAce?

Very easy

Were you able to win new patients through DentalAce?

Yes, many

How does DentalAce help with regards to patient communication?

It allows for an easy way to contact patients without disturbing their daily routines during the work day

Would you recommend DentalAce to your dentist colleagues and/or patients?

Yes, I recommend it to both, because with the support of more of my colleagues and of more patients, this platform can become the new standard of patient-dentist communication