DentalAce Data - How our data analytics package can help you maximize value for your practice
Dear dentists,

As the last 6-8 months have shown, it is nowadays absolutely necessary to collect all relevant data about and for your patients and about active and past treatment requests in one place to ensure that you find and treat the right patients.

This is why we rolled out the DentalAce Analytics Suite 1.0 and would like to offer it to you for EUR 15 per month starting on Jan. 1, 2021 for testing. Starting on Nov. 15, 2020, your DentalAce profiles will have a new tab in their menu options where you will be able to review several efficiently designed and put together data tables that will allow you to better focus your patient acquisition efforts and to optimize treatment prices in a way that makes them affordable for the largest possible number of patients.

To give you a preview of the information that we are about to show you ahead of time and to provide you with a user guide, we compiled this short and concise blog post for you. For additional questions, we are always available for you under dentalace@acemydental.com as well as via phone at 01 925 38 19.

Now to continue on: at first, let us look at a summary graphic which displays the aggregate data from our performance statistics during 3 separate phases after the initial account creation.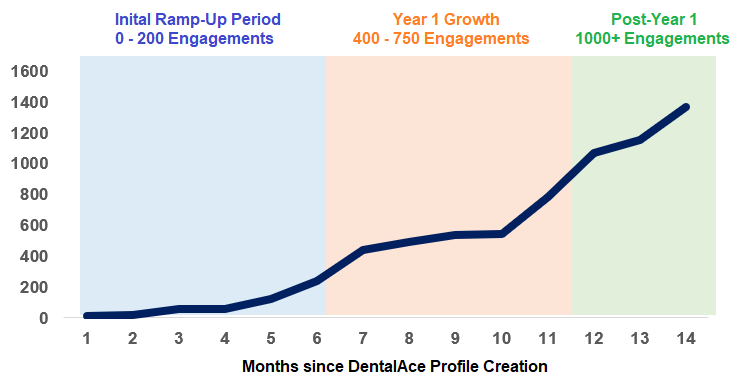 As we already told you in our info materials, all of our members who have been with us for 1+ years have gained 100 or more new patients via our platform. Despite this very positive success statistic, there are also additional interactions that users can have with our dentists' profiles, as illustrated in the graphic below. On average, our users garner over 1,000 interactions in the first 12 months (incl. 100+ appointment bookings per year), all of which fall into one of the following 3 groups in our so-called Customer Acquisition Funnel"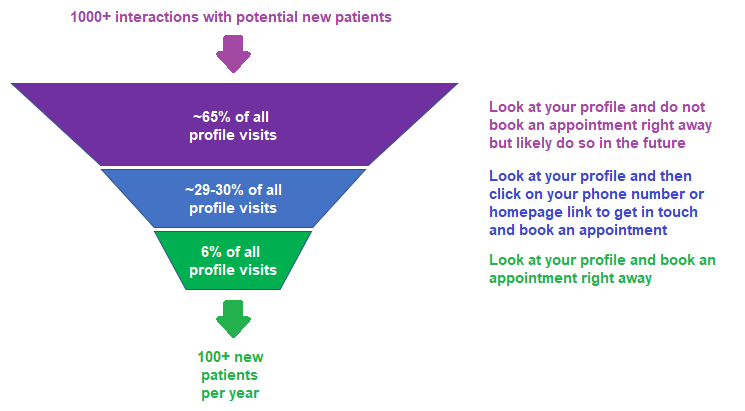 Profile Visits: This data point includes clicks on dentist profile names, their profile picture, and the profile button and almost 100% of profile visitors start their journey to an appointment booking through one of these channels. In the last 18 months, roughly 60-65% of all profile visitors leave your profile after this step, though many of them are very likely to return to your profile at a later date to book appointments. The benefit of such visits is either an immediate appointment booking or an expanded reach covering more potential new customers, which increases the likelihood of future appointment bookings.
Clicks on Contact Data: Roughly 30% of your profile visitors arrive at this step and contact you either via phone or via e-mail or through your own separate website. Though such appointment bookings take longer than online appointment bookings, this channel also enables them to effectively address more old-fashioned patients and to bring them into their practice.
Online Appointment Bookings: The final 6% of your appointment visitors make it to this step and book appointments online through their built-in online calendars. Though 6% may seem fairly low at first, this percentage of profile visitors yield over 100 new patients per year for our longer-term visitors. In other words, even fewer than 10% of your profile traffic through our portal gives you several 100% in additional value on top of their membership fee of EUR 83-99 per month.
As you can see, even the above-mentioned quite simple data analysis shows that s membership with us is definitely worth it and virtually pays for itself. Our new Analytics Suite 1.0 will not only allow you to keep an eye on there trends as you go but will also permit the summarization of similarly or more detailed statistics in very few button clicks to answer crucial business performance questions such as:
Question: How much value does a DentalAce membership bring?
Answer: Your profile visit and online appointment booking statistics answer this question in detail.
Question: For which procedures is a specialization advisable?
Answer: Your booking statistics by treatment show you in detail which procedures see the highest demand among your patients.
Question: Are my treatment prices competitive and optimally tailored for my market?
Answer: In the course of time, our treatment statistics will enable confidential price comparisons to help you optimize pricing.
Question: When and on which days should I keep my practice open to serve the most patients?
Answer: Our booking statistics will clearly show you at which times and days during any given week you will be able to see and treat the highest number of patients.
Question: Which treatments are the most sought after in which Viennese districts?
Answer: Over time, we will be able to show you an increasing number of treatment and procedure price info to help you with local optimization.
Hopefully, you found this Newsflash Article interesting and we are already looking forward to introduce you to our new Analytics Service Suite 1.0.

In the meantime, you can take a look at our blog for additional informative articles.

All the Best and see you soon!

Your DentalAce Team